Your money Your Wirex card
The Wirex Visa card earns Bitcoin rewards with every in-store purchase and gives you the power to spend your cryptocurrency in real life. It's your money, take control.
Your account, your choice
Easily buy, store and exchange 8 digital and 10 traditional currencies anytime, wherever you are in the world. Wirex's smart, secure accounts give you full control over your money:
Customise your app – choose the accounts that you want, hide the rest
Fund your accounts using a debit or credit card, bank transfer or crypto
Send funds in and out of your account via bank transfer (SEPA/SWIFT/Faster Payments*)
Track and manage your account with instant in-app messages
The future of spending
Spend like a local with Wirex Visa cards in GBP, EUR or USD..
Avoid unnecessary bank charges and fees when abroad by paying in the local currency.
Instantly exchange and spend any of 18 digital and traditional currencies using your card.
Global spending
Use your Wirex Visa card at 40m+ outlets around the world, in-store, online or at ATMs
Smart rewards
Earn while you spend! Cryptoback™ gets you 0.5% back in BTC on all in-store purchases
Instant alerts
Keep track of your spending and budget with instant in-app alerts for each account
Your personal security
Protected: Multi-signature, cold-storage cryptocurrency accounts protect your currency like a digital Fort Knox.
Secure: 2-Factor Authentication (2FA) and sophisticated Device Authorisation ensures that only you can access your account
Certified: Wirex is PCI DSS Level 1-certified, giving your funds the highest level of protection possible.
Licenced: We're the only Europe-headquartered company to hold a Financial Conduct Authority (FCA) e-money licence.
Unmatched rates
It doesn't matter whether you're buying or exchanging traditional currencies, crypto or any combination therein – we're the only company that gives you unconditional access to live interbank and OTC rates, so you always get the best deal regardless of your transaction amount.
How much is the card?
The card and delivery are free of charge. There is a monthly card management fee of £1.00/€1.20/$1.50 to cover administration and operational costs. Please check our fees and limits page for a full breakdown.
How do I fund my card?
Add funds to your Wirex account via bank transfer, credit or debit card or using your crypto
Where can I use the card?
Anywhere Visa is accepted. That means online and in shops, bars, restaurants, public transport and ATMs around the world.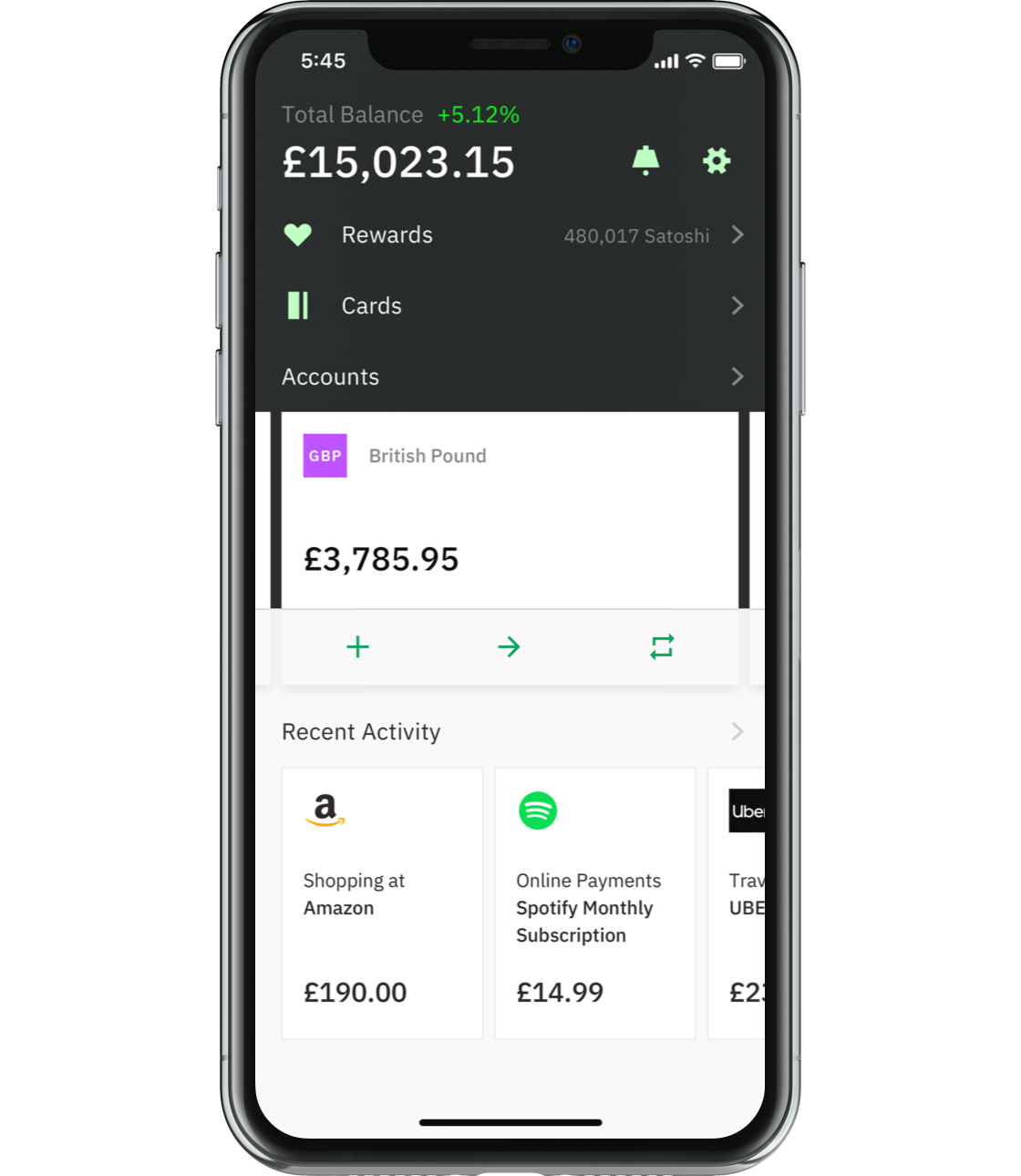 Meet Wirex Business
The world's only licensed business account that allows payments in both crypto and traditional currency.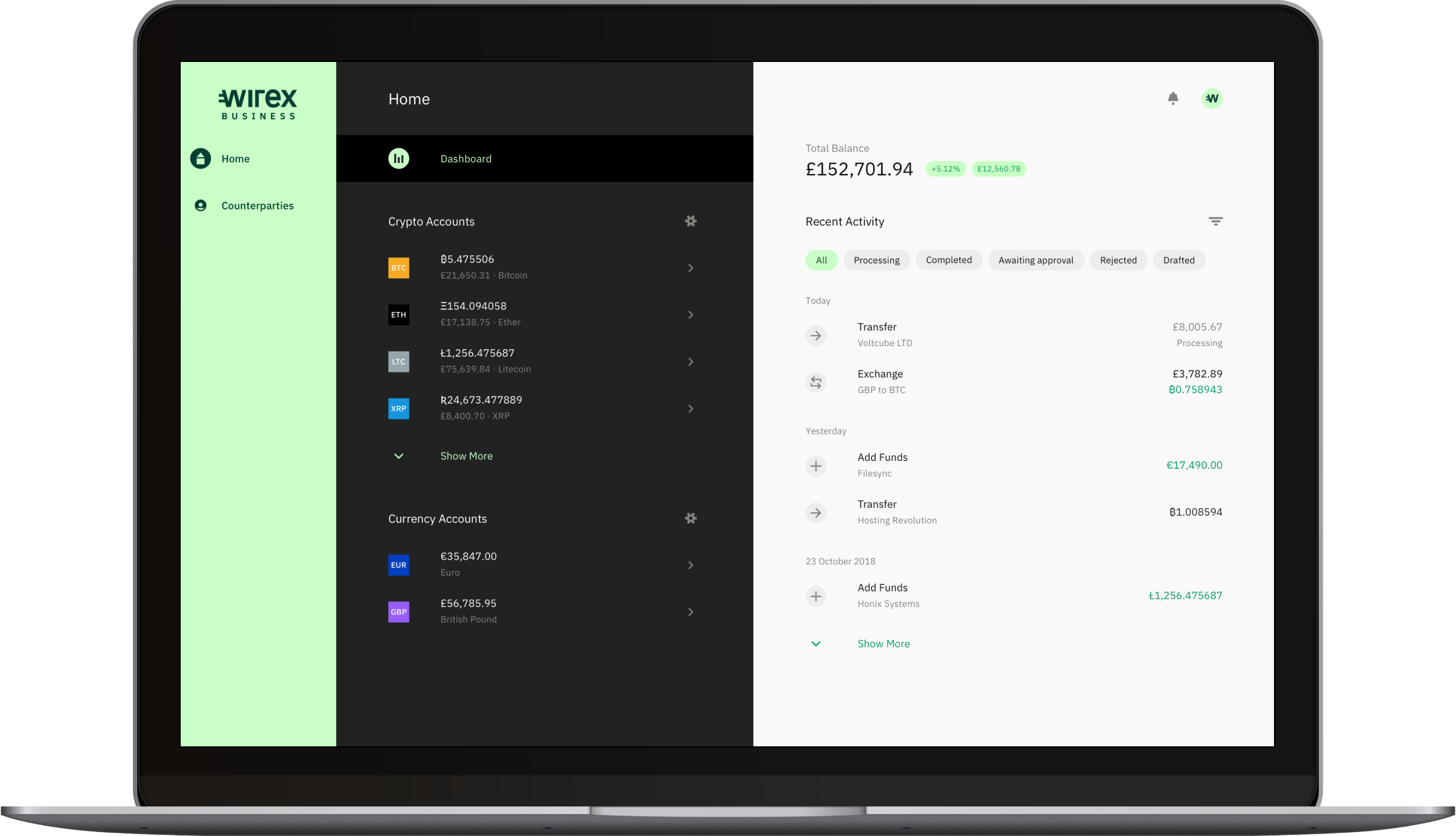 Your crypto and fiat-enabled business account
Make payments anytime, anywhere, in 16 crypto or traditional currencies of your choice. Exchange between fiat and crypto (and any combination therein) at Interbank and OTC rates, without a minimum transaction limit.
Wirex Business delivers unbeatable value, flexibility and transaction speed by combining the efficiency of cryptocurrency payments with the universal acceptance of traditional fiat currency accounts, on a global scale. Does your business account do that?
Accounts
Multi-currency accounts registered to your business's legal entity. Hold up to 16 secure digital and fiat currency accounts on one simple platform. Customise your interface and select the accounts that you want including BTC, ETH, XRP, AUD, HKD, JPY, GBP and many more.
A Stellar addition to Wirex
Introducing your brand-new secure XLM account. Now you can buy, exchange and spend this top-ten cryptocurrency wherever and whenever you want. Your money, your rules.
A leading light
Lumens (XLM) is the native token from Stellar, one of most innovative and versatile blockchain projects in the industry. With a market cap of well over $2 billion, it is the fifth CoinMarketCap top-ten currency to join the Wirex platform – and our ninth digital currency overall. Why not add XLM to your crypto portfolio today?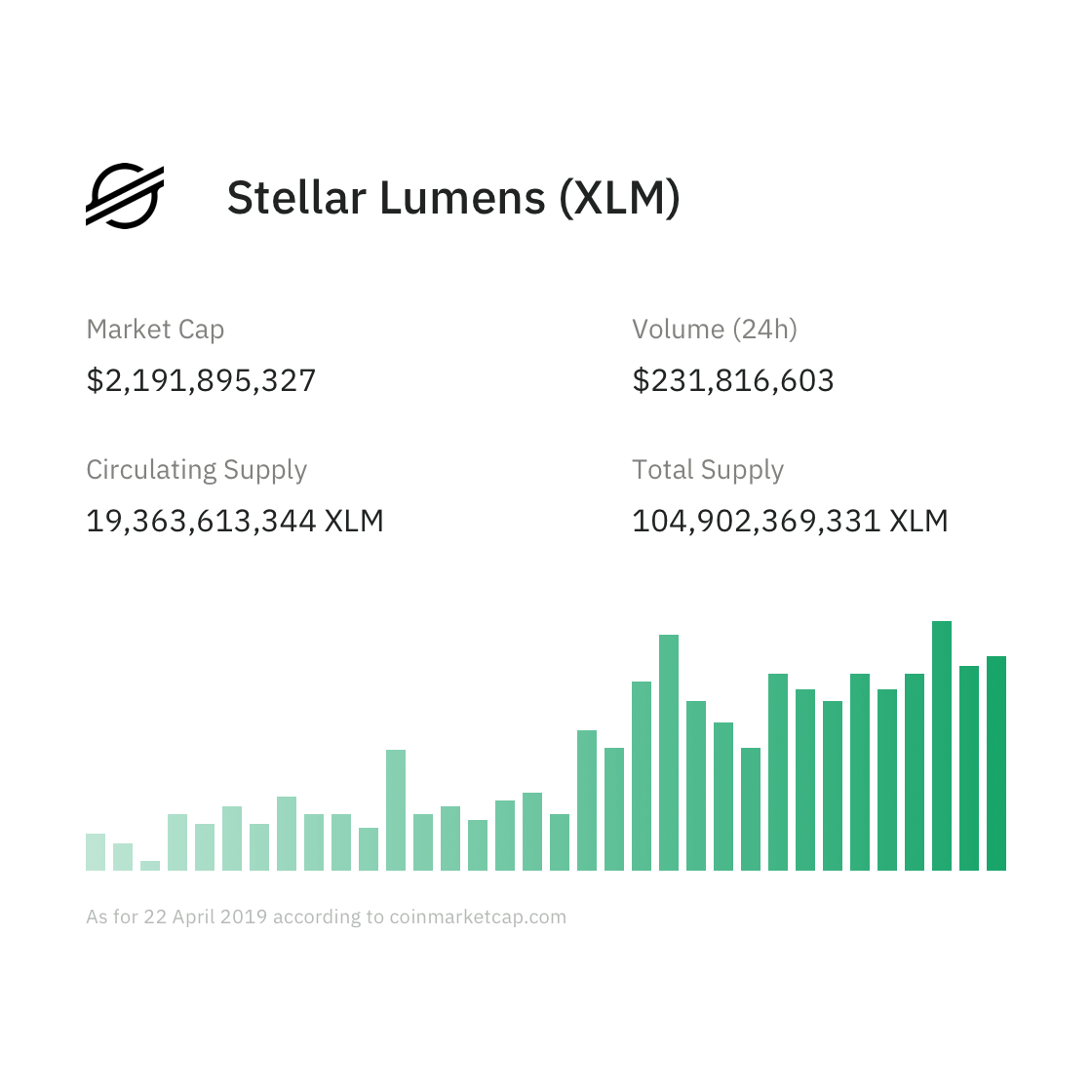 Your XLM, your rules
The Wirex platform gives you the power to use your money the way you want. That means you can:
Seamlessly convert and spend XLM at 40m+ locations around the world with the Wirex Visa card
Effortlessly exchange your XLM for any of 19 digital and traditional currencies at industry-best OTC and interbank rates
Send your XLM anywhere on the globe using SWIFT, SEPA and Faster Payments. Plus, currency transfers between Wirex users are absolutely free.
A revolutionary partnership
The release of XLM on the Wirex platform is just the first phase of a ground-breaking new partnership between Stellar and Wirex. Together, we aim to revolutionise payments, bank the unbanked, expand access to financial services and facilitate the integration of the burgeoning token economy.
To achieve this, we will become the first regulated crypto and traditional currency platform to release 26 fiat-pegged stablecoins on the Stellar blockchain.
Order your Wirex card today: Wirex