From the car park at the airport to a brand new mobility idea:discover the ParkinGO world!
The solution for the car park at the airport
ParkinGO Group is a service company focused on mobility with 26 active car parks (19 in Italy and 7 in Spain), leader in the airport car park market.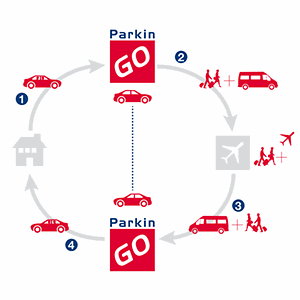 ParkinGO, was born in June 1995 to satisfy the growing demand for car park space next to the airport of Milan Malpensa, and turns soon into the first car park network servicing those who want to drive to the airport with their own car.
ParkinGO has been growing every year, achieving a very high rank in the market.
Today ParkinGO Group is known by its different brands:
ParkinGO: airport car parks at the main Italian airports offering a wide range of services like Car Valet or Car wash;
ParkinGO Cruise: port car parks at the main Italian ports;
ParkinGO Spain: airport car parks at the main Spanish airports;
Fast Parking: the "smart" brand of ParkinGO Group: same quality, quicker services and even more competitive prices.
The car park network in costant growth.
There are many Italian companies that have already chosen ParkinGO as a mobility partner at the airport.
Discover the companies that have already chosen ParkinGO
Go to company agreements
ParkinGO has a wide network of companies partnered consolidated and is in constant search of reliable new partners to start new cooperation relationships to expand our own franchising network.
Our services
All ParkinGO stations have a wide range of services available besides covered and uncovered parking spaces:
---
INCLUDED SERVICES

Parking service is always operating 365/24 hours a day
Shuttle service from ParkinGO to airport terminal and/or pier and return
Surveillance and security 24h
Insurance against fire and theft
Video surveillance parking

Professional and skilled personnel
Prompt car delivery
Car battery Restoration
Free Wi-Fi zone
---
Free shuttle service included
The shuttle bus service to and from airports and piers is always included in the rate and it's operating each day of the year, 24 hours a day.
Our minibuses don't run on schedules: they take you straight to your terminal right after your arrival at ParkinGO and on your return, once you have collected your luggage, they pick you up in designated bus stand and drive you back to the ParkinGO.
MORE INFORMATION
Car Valet (on demand)

Are you late for your flight or you're simply looking for an easier way to reach the airport? Book the car valet service and you could leave (and retrieve) your car directly at the terminal to (and from) a ParkinGO staff.
How does it work? Once the car valet on departure is booked, you're kindly asked to contact the mobile phone on your booking receipt at least 15 minutes before the estimated time of your arrival at the terminal. Our front office staff will convey all the details for car delivery.
On arrival just call the phone number on your receipt once you have collected your luggage and a ParkinGO staff will bring your car to meet you outside the terminal.

---

Luggage wrapping and protection (on demand)

If you want to protect your luggage from scratches, dirt or possible theft you can ask for luggage protection at all ParkinGO stations or while booking. The price is very competitive compared to that applied at airports.

---

Car washing (on demand)

Think of how could be convenient to park your car and pick it up clean! At ParkinGO we take care of your car while you are away: decide on having your car washed!

---

Refuelling (on demand)

Did you run out of fuel? Do not worry…ParkinGO will fill up your car. On your return your car will be ready to go without stopping at service-station.

---

Tyre change and servicing (on demand)

While standing at our ParkinGO, your car could be checked-up or have the tyres changed.
Ask for further details.
Transfers among Airports (on demand)
If you are supposed to leave from one airport but to land at a different one, we could transfer your car and have it available at your outbound airport. Transfer services are available between:
Milan Malpensa – Milan Linate
Milan Malpensa – Bergamo Orio al Serio
Milan Linate – Bergamo Orio al Serio
Roma Fiumicino – Roma Ciampino
For more information, please contact us at info@parkingo.com
Exclusive services
Exclusive services are created to satisfy the needs of the most exigent clientele. To avail of ParkinGO exclusive services please sign up here.
Please note that some services may not be available due to airport regulations
CoinMarketCap: ParkingGo
If you have GOTs
You can transfer them to your ParkinGO private area and purchase all the services of the network.