NEXO – The World's First Instant Crypto-backed Loans. Powered by Credissimo – A Leading FinTech Group serving millions of people across Europe for over 10 years.
Link to NEXO: NEXO
Buy Nexo Tokens: Binance
It is safe to say that sooner or later every cryptocurrency investor comes across the following dilemma — your crypto asset has increased significantly in value since you bought it and while you firmly believe it will continue to appreciate in value, you need cash to take advantage of an investment opportunity or to get a last-minute deal. Up to now, there weren't any options apart from selling your crypto, which meant missing out on any upside potential.
The well-known quote 'every problem is an opportunity in disguise' is one way of explaining how the Nexo idea came to be. The solution that we developed is simple, yet elegant and efficient. Rather than selling your digital asset, Nexo offers Instant Crypto-backed Loans, backed by crypto assets — much like a mortgage or a car loan. The processes are fully automated and very user-friendly, all based on the team's 10 years of experience in online lending.
Nexo is powered by Credissimo, a leading European FinTech Group that has been a key player in Online Consumer Lending and E-commerce Financing for over 10 years. Having serviced over a million customers in that period, Credissimo has reached the Top 10 of the European FinTechs and has been consistently awarded for its excellency, most recently bringing home two awards from Forbes Business Awards 2017. The perpetual drive for innovating is encoded in the team's DNA. By launching Nexo, we are now implementing our know-how to the new digital assets economy.
This is the reason why people believe in our ability to deliver what we promise. The unanimous feedback from the wider crypto community has been that a service like Nexo's is long overdue. One only needs to look at the significant portion of Bitcoin wallets that do not have any outgoing transactions to grasp the fact that crypto enthusiasts on all levels are fond of their digital assets and have much higher price targets. An instant loan secured by digital assets are a necessity for everyone in the community — the crypto miner, who has to pay electricity bills and buy new hardware equipment; the everyday investor who would love to book that lavish trip; the crypto fund that needs leverage on its assets; a company that has completed an ICO and now needs working capital to develop its project. All these different groups and many others have one thing in common — with the current price dynamics in crypto, they are better off getting themselves a loan rather than selling them.
The Nexo offering is straightforward — once a client transfers his crypto assets to his free Nexo Wallet, he instantly gets his cash on his free Nexo Credit Card or through a same/next day bank transfer to his personal or business account. There are several options to repay the loan, and all take one click to arrange: 1) using fiat currencies (USD, EUR, etc.), 2) using your NEXO Tokens to receive attractive discounts or 3) using а partial sale of his crypto assets at current market prices. Once the loan is repaid in part or in full, the available loan limits are instantly increased.
It is quite obvious why Nexo's Instant Crypto Loan facility is unique in its approach. We ensure instant access to cash, something that p2p loan platforms, where every borrower has to match a willing lender, cannot provide. The Nexo automated processes bridge that gap by extending loans in a smooth and uninterrupted matter, with zero waiting time, and transparent terms and conditions. Our team's 10 years experience in online lending automation, combined with the considerable amount of requests for instant Crypto Loans, that the community has bombarded us with, gives us confidence that the Nexo enterprise is hugely scalable. The business model is self-sustainable in its own right, something that is scarce in today's emerging crypto economic world.
The entire ecosystem is constantly evolving and will continue to do so. It is a brave new world out there, where new types of assets are being tokenized every day and brought to the blockchain to be traded, transferred and borrowed against. Soon, various assets which were previously illiquid and idle will be tokenized, opening new possibilities for businesses to receive loans and get access to fiat currencies without selling their assets. This would contribute vastly to wealth creation on all levels in an unprecedented manner, ensuring that Nexo delivers efficiently The World's First Instant Crypto-Backed Loans.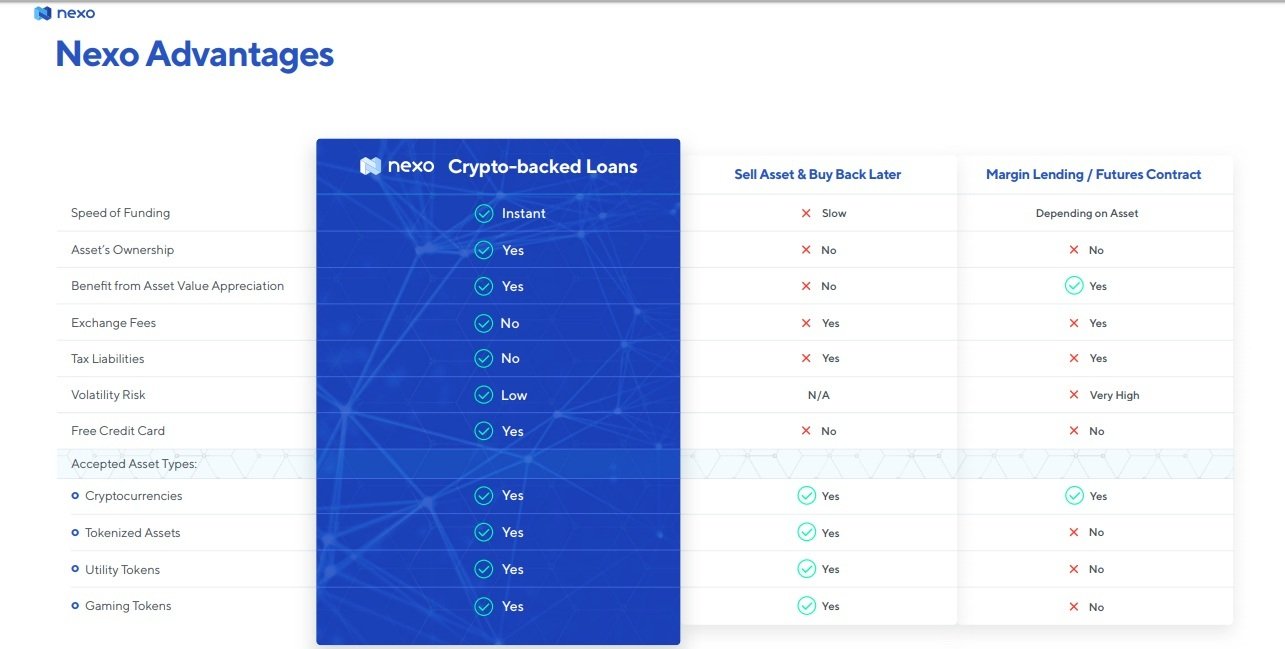 Nexo in Numbers
$1+ billion in Instant Crypto-backed Loan Requests
$52.5 million raised in an 11x oversubscribed Token Sale
60,000+ Community on Telegram and 38,000+ on Twitter
30% of profits paid to NEXO Token holders
10+ years of successful track record in online lending
Earn Interest and Protect Your Stablecoins with Nexo's 1-to-1 Conversion Guarantee
Nexo already is the most advanced and trusted crypto lending provider on a global scale. Now retail and institutional investors have the opportunity to become a Liquidity Provider on the Nexo platform and partake in yet another way in Nexo's success.
Market participants can currently earn interest of 6.5% on a variety of stablecoins — Tether (USDT), TrueUSD (TUSD), Gemini Dollar (GUSD), USD Coin (USDC), Dai (DAI) and Paxos Standard Token (PAX).
1-to-1 USD Conversion Protection Guarantee
In an industry first, and to address recent concerns about Tether (USDT), Nexo is pioneering the only protection for stablecoins on the market by guaranteeing a 1-to-1 conversion to U.S. Dollars on any stablecoin that Liquidity Providers contribute to Nexo. This unique feature can only be guaranteed by Nexo, as the leading crypto lender, and our rapidly expanding asset-backed portfolio of overcollateralized crypto loans.
Liquidity providers on the Nexo platform are currently introduced to an attractive annual interest rate of 6.5% on their stablecoins, credited daily, with the flexibility to withdraw at any time. The daily interest is paid in the same stablecoin that is deposited by the liquidity provider.
Currently, the minimum contribution amount is $100,000*, while Nexo is working on fully automating the process, which will bring the minimum down to $1,000 with the next Nexo Platform release.
This latest development comes after steep growth of the loans issued, following the acceptance of XRP as collateral and the ubiquitous #NexoEverywhere campaign that has brought integrations with the leading crypto sites, wallets, and apps like CoinMarketCap, Etherscan, CryptoCompare, CoinGecko, LiveCoinWatch, Ethos.io and many more!
All stablecoins contributions will directly finance the expansion of Nexo's crypto loans at competitive interest rates of 8–16% APR.
Nexo carries the professional responsibility and mission to satisfy the overwhelming loan demand and reaching out to the blockchain community is one of the immediate ways of achieving that.
This strategy optimally complements Nexo's continuous efforts to optimize the enterprise's cost of funding, which include, but are not limited to:
Due diligence on two (one European and one US) banks whose possible acquisition would allow Nexo to enhance its asset-liability and risk management, as well as to diversify its sources of financing at most attractive rates;
Securitization of Nexo's asset-backed portfolio and investments in it by traditional financial institutions, seeking exposure to the crypto space;
Arrangement and placement of institutional wholesale debt financing from the financial centers of the world.
Start earning interest and protect your stablecoins today!
*Terms and conditions, restrictions on certain jurisdictions may apply. For U.S. citizens "accredited investor" status is required.
Link to NEXO: NEXO
Buy Nexo Tokens: Binance